Updated with 30 new verses!
Reading Bible verses about love is the best way to understand God's intentions for your relationships and marriage. We all know that God loves us with an unfailing love, but our friends, or even our significant others, do not have the same unfailing love as God.
"God is love" (1 John 4:7).  This simple 3 word Bible verse may be one of the most insightful. Our lives, our purpose, is to learn how to love with the great love of God.
Hopefully these bible verses about love will serve as a reflection and meditation for you today.
The origins of human love
"The LORD God said: "It is not good for the man to be alone. I will make a suitable partner for him." (Genesis 2:18)
We cannot be shaped by our passions
"Your minds, then, must be sober and ready for action; put all your hope in the grace brought to you by the revelation of Jesus Christ. Do not allow yourselves to be shaped by the passions of your old ignorance, but as obedient children, be yourselves holy in all your activity, after the model of the Holy One who calls us, since scripture says, 'Be holy, for I am holy.'" (1 Peter 1:13-16)
The importance of Scripture in our love lives
"How can a young man keep his way spotless? By keeping your words." (Psalm 119:9)
Bible verse about love and the reality of temptation
"Therefore, whoever thinks he is standing secure should take care not to fall. No trial has come to you but what is human. God is faithful and will not let you be tried beyond your strength; but with the trial he will also provide a way out, so that you may be able to bear it." (1 Corinthians 10:13)
Avoid what is evil in this world
"Let love be without any pretense. Avoid what is evil; stick to what is good. In brotherly love let your feelings of deep affection for one another come to expression and regard others as more important than yourself." (Romans 12: 9-10)
Above everything, set your sights on God
"Set your hearts on his kingdom first, and on God's saving justice, and all these other things will be given you as well. So do not worry about tomorrow: tomorrow will take care of itself. Each day has enough trouble of its own." (Matthew 6:33-34)
Remember the importance of spiritual attraction, not just physical attraction
"Charm is deceptive and beauty fleeting; the woman who fears the LORD is to be praised." (Proverbs 31:30)
A holy marriage is a gift from God
"To find a wife is to find happiness, a favor granted by the LORD." (Proverbs 18:22)
We must fight for purity in our lives and relationships
"Keep away from sexual immorality. All other sins that people may commit are done outside the body; but the sexually immoral person sins against his own body. Do you not realize that your body is the temple of the Holy Spirit, who is in you and whom you received from God?" (1 Corinthians 6:18)
In a relationship, we're called to love the other as ourselves
"In any case, each one of you should love his wife as himself, and the wife should respect her husband." (Ephesians 5:33)
Don't be a clanging cymbal – Scripture tells us the characteristics of love
"Love is always patient and kind; love is never jealous; love is not boastful or conceited, it is never rude and never seeks its own advantage, it does not take offence or store up grievances. Love does not rejoice at wrongdoing, but finds its joy in the truth. It is always ready to make allowances, to trust, to hope and to endure whatever comes." (1 Corinthians 13:4-7)
In our love lives, we must wait on God's perfect timing
"I adjure you, Daughters of Jerusalem, by the gazelles and the hinds of the field, do not awaken, or stir up love until it is ready." (Song of Solomon 2:7)
Don't forget about the importance of older mentors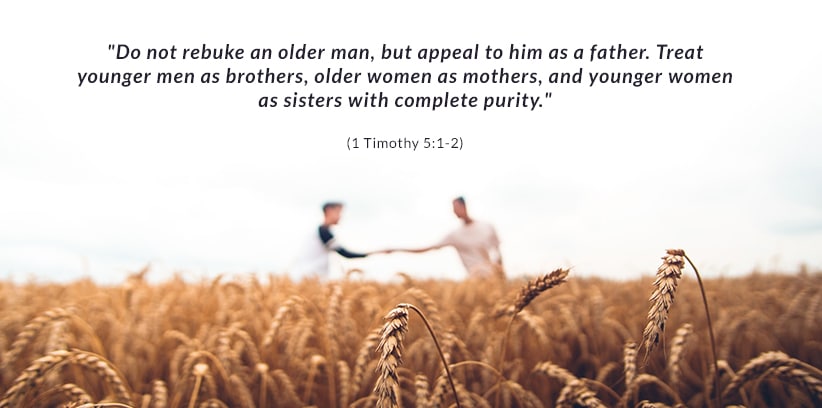 "Do not rebuke an older man, but appeal to him as a father. Treat younger men as brothers, older women as mothers, and younger women as sisters with complete purity." (1 Timothy 5:1-2)
The beauty of how marriage reflects God's love for humankind
"Therefore a man shall leave his father and mother and hold fast to his wife, and the two shall become one flesh. This mystery is profound, and I am saying that it refers to Christ and the church. However, let each one of you love his wife as himself, and let the wife see that she respects her husband." (Ephesians 5:31-33)
We're called to intentionality in our actions
"Your every act should be done with love." 1 Corinthians 16:14
Keep love close to your heart
"Do not let love and fidelity forsake you; bind them around your neck; write them on the tablet of your heart. Then will you win favor and esteem before God and human beings." Proverbs 3:3-4
True love withstands trials

"Deep waters cannot quench love, nor rivers sweep it away." Song of Songs 8:7
God is close to those who love Him

"We know that all things work for good for those who love God,who are called according to his purpose." Romans 8:28
Love requires sacrifice

"No one has greater love than this, to lay down one's life for one's friends." John 15:13
Love conquers arguments

"Hatred stirs up disputes,but love covers all offenses." Proverbs 10:12
Love your enemies

"For if you love those who love you, what credit is that to you? Even sinners love those who love them." Luke 6:32
God shows us the ultimate example of love
"For God so loved the world that he gave His only Son, so that everyone who believes in him might not perish but might have eternal life." John 3:16
We come to know God through love

"Beloved, let us love one another, because love is of God; everyone who loves is begotten by God and knows God. Whoever is without love does not know God, for God is love." 1 John 4:7-8
We're called to an intense love

"Since you have purified yourselves by obedience to the truth for sincere mutual love, love one another intensely from a pure heart." 1 Peter 1:22
Grow to love like God loves us

"But rather, love your enemies and do good to them, and lend expecting nothing back; then your reward will be great and you will be children of the Most High, for he himself is kind to the ungrateful and the wicked." Luke 6:35
Search for love
"I found him whom my soul loves." Song of Songs 3:4
God sees us as loveable

"You are beautiful in every way, my love, there is no flaw in you!" Song of Songs 4:7
God wants to romance us

"Therefore, I will allure her now; I will lead her into the wilderness and speak persuasively to her." Hosea 2:16
Love is God's new commandment

"I give you a new commandment: love one another. As I have loved you, so you also should love one another. This is how all will know that you are my disciples, if you have love for one another." John 13:34-35
Marriage calls for a crucifixion type love

"Husbands, love your wives, even as Christ loved the church and handed himself over for her." Ephesians 5:25
God gives us strength to love

"I love you, Lord, my strength." Psalm 18:2
Love fills us with the fullness of God

"And that Christ may dwell in your hearts through faith; that you, rooted and grounded in love, may have strength to comprehend with all the holy ones what is the breadth and length and height and depth, and to know the love of Christ that surpasses knowledge, so that you may be filled with all the fullness of God." Ephesians 3:17-19
God has loved us from the beginning of time

"From afar the Lord appears: With age-old love I have loved you; so I have kept my mercy toward you." Jeremiah 31:3
Love conquers fear

"There is no fear in love, but perfect love drives out fear because fear has to do with punishment, and so one who fears is not yet perfect in love. We love because he first loved us." 1 John 4:17-19
The golden rule is rooted in love

"Do to others whatever you would have them do to you. This is the law and the prophets." Matthew 7:12
We're called to love as Christ loved his disciples
"If I, therefore, the master and teacher, have washed your feet, you ought to wash one another's feet. I have given you a model to follow, so that as I have done for you, you should also do." John 13:14-15
We must not tire of loving

"Let us not grow tired of doing good, for in due time we shall reap our harvest, if we do not give up." Galatians 6:9
Love is a fruit of the Spirit

"The fruit of the Spirit is love, joy, peace, patience, kindness, generosity, faithfulness, gentleness, and self control." Galatians 5:22-23
God loves us even in our mess

"But God proves his love for us in that while we were still sinners Christ died for us." Romans 5:8
God will set us on high because of our love for Him

"Because he clings to me in love I will deliver him; because he knows my name I will set him on high." Psalm 91:14
Even death can not separate us from God's love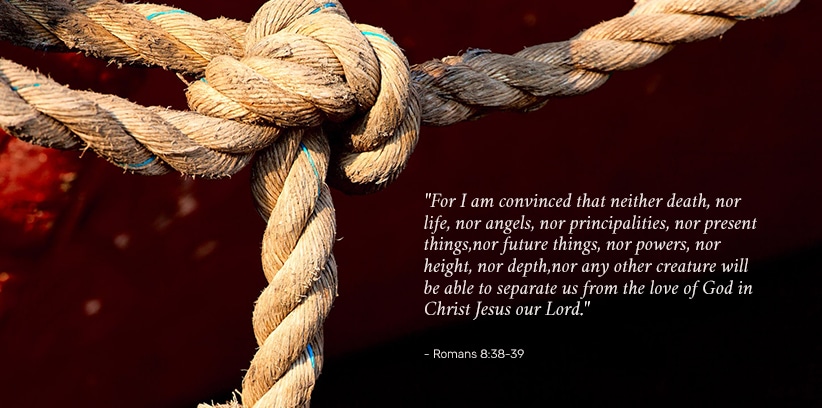 "For I am convinced that neither death, nor life, nor angels, nor principalities, nor present things,nor future things, nor powers, nor height, nor depth, nor any other creature will be able to separate us from the love of God in Christ Jesus our Lord." Romans 8:38-39
God is a merciful, loving father 

"The Lord, the Lord, a God gracious and merciful, slow to anger and abounding in love and fidelity." Exodus 34:6
Love the Lord with your whole heart

"Therefore, you shall love the Lord, your God, with your whole heart, and with your whole being, and with your whole strength." Deuteronomy 6:5
God sets us free because He loves us
"He set me free in the open; he rescued me because he loves me." 2 Samuel 22:20
Bible verses about love can teach you about the foundation of a strong, godly relationship. If you're ready to find a partner who shares your values and faith, Catholic Singles is the online dating app for you. Sign up today and meet singles who understand God's place in relationships and marriage.